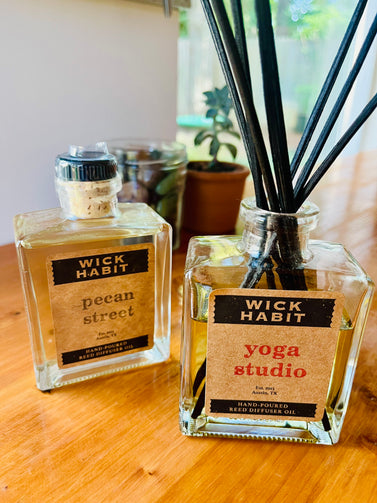 Reed Diffuser Oil
Reed Diffuser Oil
Regular price

Sale price

$28.00
All the scent, none of the fire. Try any Wick Habit scent in hand-mixed oil form!
Day Job (coffee and pastry)
Vintage Shop (old clothes, tea, dried flowers)
Moontower Picnic (fresh grass, pink lemonade)
Yoga Studio (incense, chai spice)
Farmers Market (fresh greens and herbs)
Burnt Orange (bright citrus blend)
Hipster Bar (cut wood and bourbon)
Austin City Lemons (lemon lavender pound cake)
Fancy Spa (lemongrass, lavender, eucalyptus, spearmint)
Pecan Street (caramelized pecans)
Ice Cream Parlor (vanilla ice cream, sugar cone)
Haunted Hotel (polished wood, leather, rose perfume)
German Bakery (sugar and spice)
Texas Forever (grass, leather, tobacco, spice)
All-Night Cafe (gingerbread pancakes with maple syrup)
Faerie Trail (oak moss, flowering dogwood, almond pastries)
Kolache Oasis (sweet buttery yeast bread)
Hill Country Flower Bed (yellow rose, agave, aloe, chrysanthemum, hibiscus)
Winery Tour (grapevine and lavender)
Tea House (black tea, cinnamon, bergamot, tonka)
Morning at Mount Bonnell (moss-covered limestone, juniper, sage, mixed florals)
45th and Lamar (lime, tequila, salt)
Gully Washer (damp soil, bluebonnets, sandalwood)
Bat Bridge (pineapple sage, cinnamon, cocoa)
Food Truck (ginger, oregano, tortillas, grill smoke)
All of my candles, melts, and oils are hand-poured in very small batches (by me), and all labels are stamped (by me), so expect some slight variation in appearance. Otherwise, I would be a robot. And that would be WILD.
Couldn't load pickup availability