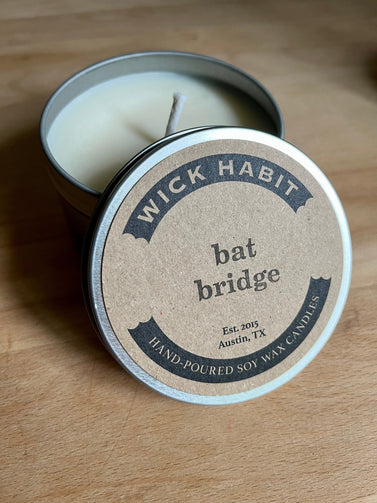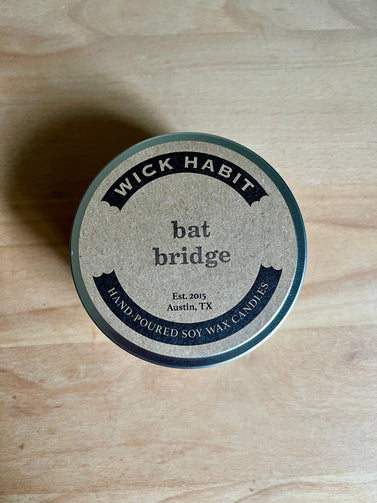 Bat Bridge
Bat Bridge
Regular price

Sale price

$16.00
Smells like: pineapple sage, cinnamon stick, rich cocoa
From early spring to mid-autumn, Austin's Congress Avenue Bridge provides a seasonal home to the world's largest urban bat colony, as 1.5 million Mexican free-tailed bats settle in amongst the bridge's nooks and crannies. These bats are my personal heroes, due to the fact that they consume between 10,000 and 30,000 pounds of insects per night, including my moral enemy, the mosquito. I have long tried to figure out a way to honor these wee champions, but the fact is that their dwelling smells (overwhelmingly and unsurprisingly) like...guano. Therefore, I have chosen to celebrate them with scents from Mexico, their native land and winter home: bright pineapple sage, spicy cinnamon, and deep, bitter cocoa. A rich, heady scent, fitting for my shrine to the mighty mosquito-vanquishers.
**********
Soy wax candles burn long and clean, and each metal tin can easily be wiped out and re-used.
All of my candles are hand-poured in very small batches (by me), and all labels are handwritten (by me), so expect some slight variation in appearance. Otherwise, I would be a robot. And that would be WILD.
Couldn't load pickup availability